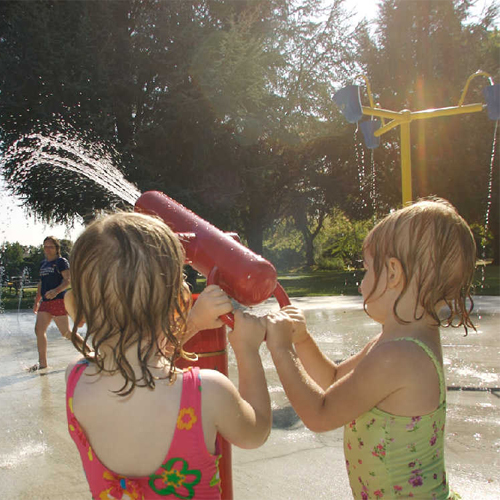 Blue Lake Park is located in Fairview and is a great summer stop! Blue Lake offers a wide variety of activities, like relaxing on the beach, swimming in the lake, running around playing disc golf, fishing, and even a spray water park for the little ones! You can have a picnic or host events and get-togethers at the park too!
Know when you go

Open from 8 a.m. to legal sunset.
Parking fee is $5 per car, $7 per bus (free with annual pass).
Closed on Christmas, Thanksgiving and New Year's.
Children under 5 years are not allowed in the lake, but there is a water play area for all ages.
Much of the park is wheelchair accessible, including the parking areas, restrooms, fishing dock, picnic areas, water spray ground, playgrounds, park paths, office, wetlands observation deck and trail loop.
From October through April, you can use only a private fishing boat with horsepower less than 3.0 and shorter than 14 feet (17 feet for canoes) for the purpose of angling only. Private watercraft such as recreational boats, kayaks and paddleboards are not allowed on the lake anytime during the year.
The perfect family summer spot, come down and have fun at Blue Lake Park! Learn more about all the awesome activities available and the events happening at Blue Lake at: www.oregonmetro.gov/parks/blue-lake-regional-park
Discover more attractions, events, and activities you wont want to miss out on while visiting: The West Columbia River Gorge. Dont forget to visit The West Columbia River Gorge Chamber of Commerce for more information about the regions attractions and lodging before your trip to The West Columbia River Gorge in Oregon.