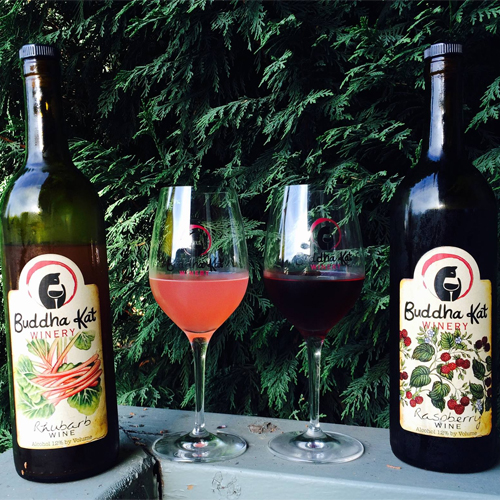 Come down to Sandy for locally made wine from Buddha Kat Winery featuring varietal and fruit wines from grapes and fruit of the surrounding orchards in the Columbia River Gorge and Mt Hood area. As one of the 300+ wineries participating in the Oregon Wines Fly Free from Alaska Airlines, this is a great stop in the Mt Hood territory area!
Our main tasting room and winery is located in the quaint, small town of Sandy, Oregon located 25 miles east of Portland. Known as the Gateway to Mount Hood, Sandy serves as a wonderful central location for launching a variety of recreational activities such as hiking, camping, fishing, mountain biking & cycling in the summer and skiing, snowboarding, and snowshoeing in the winter. Make sure to stop in at the winery to taste some of our internationally award-winning wines or call ahead and schedule a private tasting or tour of the winery and winemaking process by our head winemaker.
Learn more about Buddha Kat Winery and their tasting room in Sandy OR!
Enter to win The Oregon Wines Fly Free sweepstakes from Alaska Airlines and check out which of the 300+ wineries participating are closest to you!
Discover more attractions, events and activities you wont want to miss out on while visiting: Mt Hood Territory. Dont forget to visit Mt Hood Territory for more information about the regions attractions and lodging before your trip to Mt Hood.