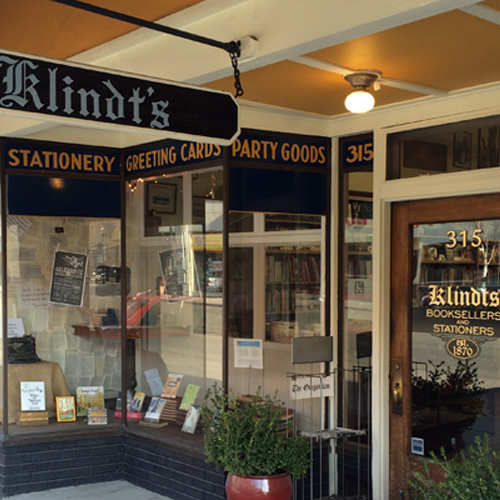 Come on up to The Dalles and visit the oldest bookstore in Oregon! Original bookshelves tell as many stories as they hold in a store that has been selling books and stationary since 1870 along the scenic Dalles. Come down and explore classic and new books in the historic Klindt's Bookstore.
Klindts Booksellers has been selling books, stationery, journals and office supplies since 1870. Located in the scenic town of the The Dalles, along the banks of Oregons famous Columbia River, Klindts Booksellers is a beacon of the community.

Entering Klindts Booksellers is like taking a step back in time. With the original floors, cabinets and bookshelves, you can browse new and classic book titles, greeting cards and beautiful stationary in a relaxed, comforting environment. And, with our knowledgeable staff, we are able to help find whatever you are looking for.

*Earliest known picture of the Nickelsen Stationery, Books, Music and Jewelry store.

Our History - 140 Years and Counting

The bookstore first opened its doors in 1870. Ingwert C. Nickelsen, a native of the Island of Fohr in the Frisian Islands, near the coast of Northern Germany, decided to settle in The Dalles and open the areas first bookstore. The original location was across the street, but a fire forced Nickelsen to move to our current location in 1893.

In 1928, Nickelsen sold the bookstore to the Weigelt family. The Weigelt brothers, Gus and Paul, along with their sister Edna, owned and operated Weigelts Bookstore & Stationers for the next five decades.

*Inside the Nickelsen store.

The Ghost of Edna

Like all of the owners and staff members at Klindts Books, Edna Weigelt was an integral part of the bookstores history and folklore. After the Weigelt's sold the store to Philip and Linda Klindt in 1981, Edna agreed to stay on for a year to help with the transition. However, her love for the store and the community turned one year into several. Edna worked at the bookstore until she was 91.

*The Weigelts

Is Edna still with us Even after her passing in 2003, signs of her presence still remain in Klindts Books. The next time you visit Klindts, ask us about Edna.

With the passing of Linda in 2000 and Philip in 2010, Klindts Booksellers is now owned and operated by their niece, Kristin Klindt and Joaquin Perez. Our story is still unfolding.
Learn more about Klindt's story and visit their website for events.
Discover more attractions, events and activities you wont want to miss-out on while visiting: The Dalles. Dont forget to visit The Dalles Chamber Of Commerce for more information about the regions attractions and lodging before your trip to The Dalles in Oregon.