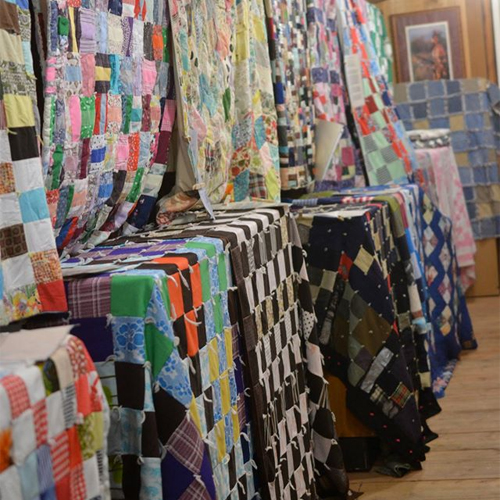 This year marks the 19th Annual Mt Hood Oregon Trail Quilt Show which will take a look at the past and present of quilt making styles. Learn about the different styles settlers had for quilt making while comparing them to modern day contemporary styles. This event will be free admission and the exhibit will take place in the historic Village of Rhododendron on July 16-17th noon to 5pm.
The heritage of our quilting traditions is celebrated in this two-day event. Held in the Village of Rhododendron during the month of July, this special event brings together heritage quilts of the past --such as those dating back to the days of the Oregon Trail,hand-sewn by those who made the 2,000-plus mile journey westward -- with the artistic quilts of contemporary times. Besides quilts there will be arts and crafts on sale,Huckleberry jam and other wildberry goodies, historical and Nature books, and unique Oregon Trail walking sticks, plus storytelling. On Saturday and Sunday, entertainers performing Native American ute music as well as old-time music will be on hand for daytime jams and concerts along with those performing Traditional Folk and Blues. It is said that there are more historic quilts in this one area than youll see anywhere else.
You can learn more about this event at: www.cascadegeographicsociety.com/2016-events.html (you can view the event by scrolling down) Or visit the Facebook page at: www.facebook.com/CascadeGeographicSociety/
Discover more attractions, events and activities you wont want to miss-out on while visiting: Mt Hood Territory. Dont forget to visit Mt Hood Territory for more information about the regions attractions and lodging before your trip to Mt Hood.