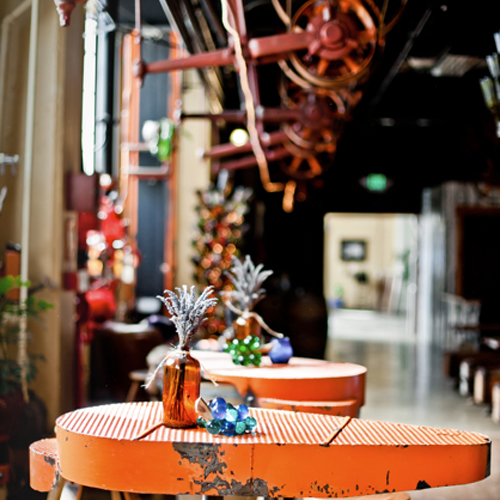 Located in the Dalles, Sunshine Mill has a rich history. Even though the wine didn't come in till about 2002, but the old architecture and history of the building is sure to charm you.
The Sunshine Mill has a long, colorful history. The Sunshine Mill has milled wheat on this property for more than 130 years, and was the first building in The Dalles to have electricity, powered by a Thomas Edison Motor which can still be seen in The Mill. It is also the only designated skyscraper in The Columbia River Gorge.

The Sunshine Biscuit Company once owned this property and the wheat milled here was used to make everyone's favorite cracker, the Cheez-It!

The Sunshine Mill now houses Quenett and Copa Di Vino wineries owned and operated by James and Molli Martin, both from The Dalles. Quenett Winery released its first vintage in 2002 and burst onto the wine scene with its outstanding vintages of Sangiovese and Zinfandel. The word Quenett comes from the journals of Lewis and Clark, who camped along luscious and fruitful banks of the Columbia River and learned from the local Indians that the word Quenett meant "Steelhead."

The story and inspiration for Copa Di Vino, or "Wine by the Glass", takes us on a journey through Provence on a bullet train where James and Molli first saw the concept of ready to drink wine. They brought their idea back to the States and began re-habilitating the Sunshine Mill Campus to become the production site and tasting room for Copa Di Vino, which has been housed on site since 2009.

So take a walk through the grounds and discover The Sunshine Mill, the awe-inspiring property that James and Molli have hand crafted out of artifacts found here to share with you. Enjoy a tasting or have a glass of wine in our amphtitheater. Order an Antipasto platter to enjoy in The Boiler House Bar and drink differently at The Sunshine Mill.
Learn more about the Sunshine Mill Winery.
Discover more attractions, events and activities you wont want to miss-out on while visiting: The Dalles. Dont forget to visit The Dalles Chamber Of Commerce for more information about the regions attractions and lodging before your trip to The Dalles in Oregon.