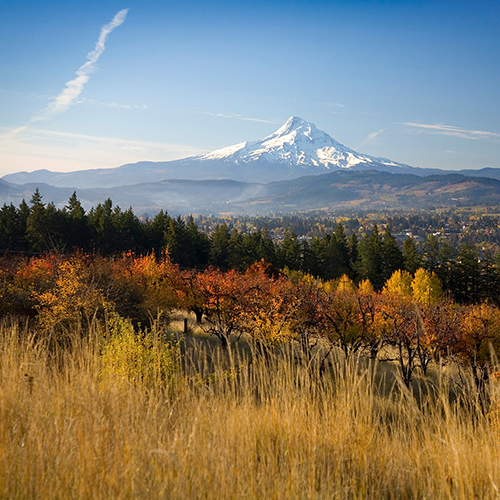 Drive along one of the Mt. Hood/Columbia Gorge scenic byways during the month of October and you will experience our regions vibrant fall foliage. Looking to go off-the-beaten-path for autumns visual bounty Check out our Top 5 Mt. Hood/Columbia Gorge Hidden Leaf Peeping Gems:
Hood River Fruit Loop, Hood River: The 35-mile Hood River County Fruit Loop, set among 14,000 acres of bountiful orchards, is perfect for fall leaf peeping. Not only do the apple and pear orchards and grape vineyards turn beautiful fall colors, but visitors can make stops at farm stands and u-pick farms along the way for apples, pears, pumpkins, chestnuts and other fall produce.
Mill Creek Road, The Dalles: Follow along Mill Creek Road via car or bike to pass by stunning cherry orchards, vineyards, farmland, and old school houses basking in the autumn sunshine. Take a break for a vineyard tour of The Pines 1852 winery along the way.
Eagle Creek Trail to Punchbowl Falls, Cascade Locks: This 4-mile round trip hike to Punchbowl Falls takes you through forests of firs ferns. Keep your eyes peeled on the creek to your right to spot the spawning salmon that return here every fall.
Jonsrud Viewpoint, Sandy: Pull over to Jonsrud Viewpoint in Sandy to see the changing colors of the entire Sandy River Valley.
Hunchback Trail #793, Mt. Hood National Forest: Vine maples add a stunning contrast to the lush green of the old growth forest. From yellow to orange, dark red to amber browns, this trail is strenuous but worth the sweat. Stop by the ZigZag Ranger Station for further directions and parking.
Need a place to stay nearby your leaf peeping adventures Check out Mt. Hood Territory, The Dalles Chamber of Commerce, West Columbia Gorge Chamber of Commerce, or the Hood River County Chamber of Commerce for more info.
Photo Credit: Michael Peterson