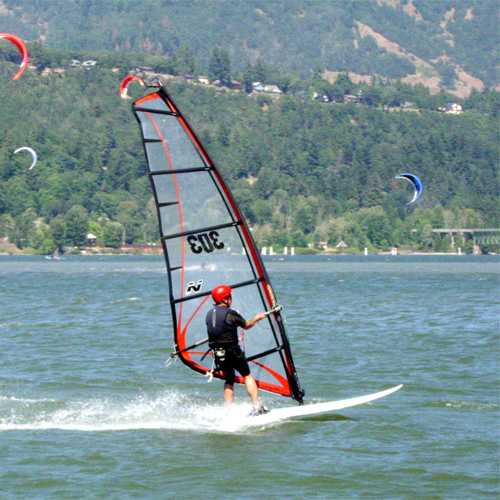 Known internationally as the windsurfing capital of the world, Hood River's prime windsurfing season has just kicked off. Come enjoy, sun and swells at the best place to windsurf in the world, whether you've never touched a sail, or if you are a veteran, we have something for you. Here are a some frequently asked questions to get you started on your adventure.
When is the windiest season

While many locals windsurf year round in the Gorge, the most reliable (and warmest) wind is from June through September.

Which airport do I fly into

Portland International Airport (PDX). From there, take 205S to 84E, and 60 miles later youll be at Hood River.

What is the weather like in the summer

Summer air temps range from 60-100 F, and water temps begin the season around 50 and reach the upper 60s to low 70s during August and September.

Do I need a wetsuit

Wetsuit thickness is a personal preference; during the early season a 5:4 with booties is preferred by most, and by the late summer some windsurfers choose to go without a wetsuit or wear a shorty.

What size sails do I need

A typical Gorge quiver for the intermediate/advanced sailer ranges from 3.0 to 6.0. While you probably wont use them all in the same day, conditions can vary from day to day.

Do I have to be a strong windsurfer to sail the Gorge

No, in fact the Gorge is home one of the best places to learn in the country- the Hook. Pure beginners can learn inside the enclosed lagoon, and as you progress you can move to the outside (west side) of the Hook, where its protected from the river swells and where you wont end up in the barge channel. For intermediates who are getting most of your waterstarts, try the Event Site. And once you master the art of the waterstart, well, have fun out there!
To learn more about windsurfing in the area you can visit Hood River Chamber of Commerce's site for windsurfing, or you can visit Columbia Gorge Windsurfing Association to view their FAQ page and get the local knowledge.
Discover more attractions, events and activities you wont want to miss-out on while visiting: The Hood River. Dont forget to visit The Hood River Chamber Of Commerce for more information about the regions attractions and lodging before your trip to Hood River.