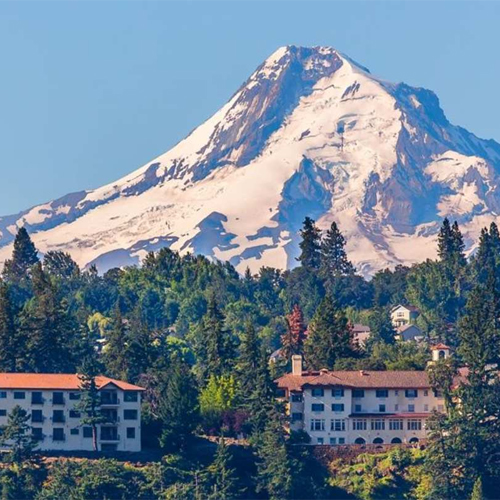 Come to Hood River and relax and bask in the beauty of the Columbia River Gorge from Columbia Cliff Villas. Hood River is surrounded by so many fun things to do, from hiking and biking trails, to water sports perfect for summer, and Mt Hood a short drive away to enjoy the only place in the country that offers year round snow play! If you are looking for a more relaxing getaway, look out onto the gorgeous view from atop over 200-foot cliffs, and enjoy all the amenities The Columbia Cliff Villas offer. With onsite restaurant and spa facilities and luxury rooms, whether you are here for business or play you are sure to enjoy yourself.
Columbia Cliff Villas is unique in the Gorge. Spacious Villas feature grand living areas, including master suites, balconies and several guest suites that lock out for complete privacy, most with panoramic views of mountains, forests, valleys, cliffs and/or rivers. Two Carriage Houses help isolate the courtyard and provide charming accommodations at very reasonable prices. From our vantage point over 200' above the majesty of the mighty Columbia River, we share the view with eagles as you look down on one of the world's most famous windsurfing beaches.

In addition to countless nearby scenic attractions, our owners and guests also enjoy the amenities and romantic manicured gardens of the adjacent historic Columbia Gorge Hotel & Spa. So, you can stroll the connecting pathways through award-winning "Gardens of Distinction" along the tumbling creek to a 208' waterfall, listen to its soft roar and breathe in the fresh clean mist as you recharge and stimulate your senses before indulging in fine and casual (indoor and outdoor) dining at Simon's Cliffhouse Restaurant or experience total relaxation at their recently renovated spa facility.
Learn more about the hotel and book your stay at: www.columbiacliffvillas.com/about/about-us.htm
Discover more attractions, events and activities you wont want to miss out on while visiting: The Hood River. Dont forget to visit The Hood River Chamber Of Commerce for more information about the regions attractions and lodging before your trip to Hood River.