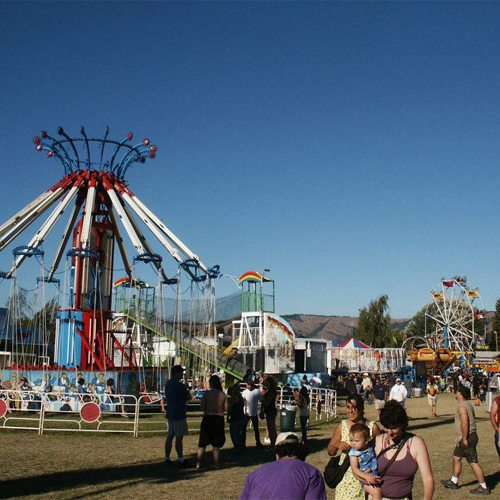 Come one, come all to the Hood River County Fairgrounds for the 89th Annual Hood River County Fair, July 27th-30th! Fun for the whole family, come down for food, rides, music and fun activities for the kids too! Everyone is sure to have a blast!
Wool Busting! is back. Kids up to 55 pounds and younger than 12 can try their hand at riding sheep. Its a start for the next generation of rodeo stars. Shows daily. The championship ride is Saturday at 5:30 p.m.

Theres fun for bigger kids, too, including the Buck-A-Ewe mechanical sheep. Its exciting rodeo action for kids over 55 pounds, and younger than age 12. There are also Just for Fun roping clinics for kids of all ages. Its all sponsored by Hood River Supply and Columbia State Bank.

The Frank Herman Arena will be a busy place during the fair. Wednesday at 7 p.m. is the Hispanic Dancing Horses Show. Banda Diamindo will also perform.

Thursday through Saturday will be Team Penning and Ranch Sorting practices and competition, Youth Gaming Events, and more. Check the schedule for all arena activities.

Every day is Bracelet Day on Cascade Amusements carnival rides. Save money on rides by purchasing a $22 ride bracelet ticket, or pay $17 in advance of the fairs opening. Theyre available in Odell at the fair office, Mid Valley Market, and Hood River Supply; at McIsaacs Store and Jims Market in Parkdale/Dee; at Juanitas Market in The Dalles; at Pine Grove Grocery in Pine Grove, and at Juanitas Market, Hood River Supply, and Columbia State Bank in Hood River, and must be purchased by 5 p.m., Wednesday, July 27. Each bracelet ticket purchased may be used on any one day of the fair, and is good for rides all day long. Carnival rides begin at 1 p.m. each day, and continue until closing. The fair gates open at noon each day
Read more about the fair in this Hood River News Article, or visit the website at: www.hoodriverfair.org/fair.htm
Discover more attractions, events and activities you wont want to miss-out on while visiting: Hood River. Dont forget to visit The Hood River Chamber Of Commerce for more information about the regions attractions and lodging before your trip to Hood River.