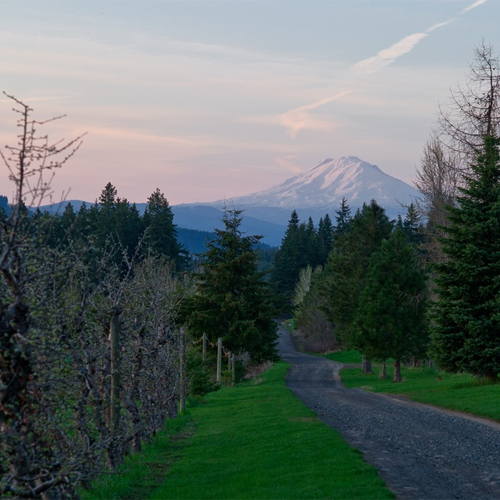 In the Hood River area south of Parkdale and Odell nestled in the hills of Mt Hood there is a family-owned organic farm. Mt Hood Organic Farms has been under the ownership of Brady and John Jacobson since 1981 who believe in sustainable farming techniques. They were in fact part of the original group that started the Fruit Loop in the Hood River area that celebrates local farms in the area.
First and foremost, Mt. Hood Organic Farms is a family run farm, operated by Brady and John Jacobson, which just happens to be situated in a stunningly beautiful location at the base of Mt. Hood in the Upper Hood River Valley. The valley supplies about 30% of all the winter pears grown in America and is bookended by Mt. Hood to the south and Mt. Adams to the north. The mighty Columbia River and its Columbia River Gorge Scenic Area are 15 miles to the south as well. The valley is rural, agricultural and is primarily a pear growing region, although apples, cherries, and wine grapes are also grown here. New wineries have been established over the last decade along with the new designation for wine produced here known as the Columbia Gorge Appellation. New cideries are also being established, as hard cider makes an exciting comeback in America.
Learn more about them at: www.mthoodorganicfarms.com/about-us/
Discover more attractions, events and activities you wont want to miss-out on while visiting: Hood River. Dont forget to visit The Hood River Chamber Of Commerce for more information about the regions attractions and lodging before your trip to Hood River.