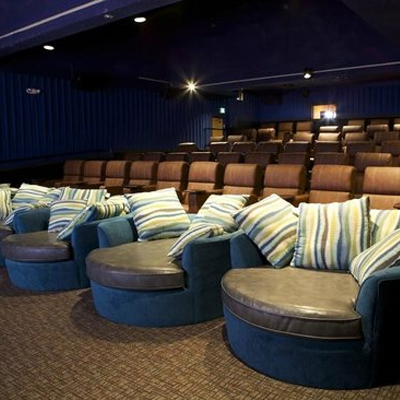 Andrew's Pizza and Skylight Theatre is the perfect place to stop in for something to eat in Hood River, with comfy seats in the theater, and hand made, hand tossed pizza's and calzones. This theater and movie experience as been around for 25 years and is proudly family owned and operated.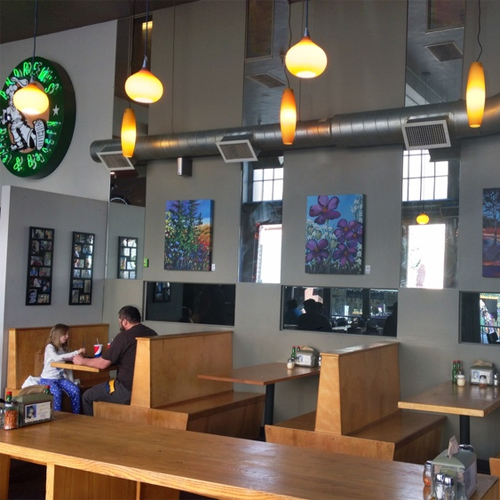 What started twenty-five years ago as a small family run business has grown into several businesses still owned and operated by Andrew and his wife Melissa. BC (before children) you would find them both in the small shop, Melissa baking cakes and pastries and Andrew tossing pizzas. What started with one employee, the not so cheap labor of having your dad working with you, to now employing over thirty. Andrews still is a small family run business. Just as Andrew learned solid work ethics working in his fathers east coast restaurant years ago, both of Andrews daughters have spent their summer vacations working as part of the restaurant crew. The original east coast pizzeria has expanded over the years but the real thin crust pizza that built the business is still coming out of the old fashion brick ovens drawing raves and thanks from customers who know and appreciate east coast pizza.

Andrew has always believed that you should be known by actions and not just words and has always given back to the community that he and his family call home. From helping out a small school raffle in Mill A to serving as president of the Chamber of Commerce to volunteering to coach high school Lacrosse, people know that they can count on Andrews support.

The Theater

Andrews Skylight Theaters features Hollywoods latest blockbusters on two silver screens. The theater is located in the rear portion of Andrews pizza and extends its restaurant menu to theater-goers who like to dine while watching a movie. Select and create your own gourmet five topping pizza or have one of our famous theater salads. In addition to pizza, or other New York-style Italian favorites, the Skylight Theater has up to 15 rotating local beers on draft and more than 100 different varietals of wine.

In January 2015, the Skylight Theater was remodeled. Theater seating was replaced with spacious leather recliners and pillow-topped sofas for a more comfortable, viewing experience. In-theater dining also improved through larger in-arm tables and additional elbow room. Also part of the remodel and found just outside the theater doors, is a large selection of local and imported wines. Grab a glass or bottle of your favorite varietal and head back in to the movie.

The Skylight Theater offers a matinee and evening shows. Matinees and the first evening show are open to all ages (restricted by movie ratings only). Beer and wine is allowed in the theater to adults over 21 years of age with proper ID. The late show is reserved for adults 21 and over ONLY. Proper ID will be requested for theater entry.
Come watch a movie and enjoy your pizza too out here at Andrew's Pizza and Skylight Theater in Hood River!
Discover more attractions, events and activities you wont want to miss-out on while visiting: Hood River. Dont forget to visit The Hood River Chamber Of Commerce for more information about the regions attractions and lodging before your trip to Hood River.