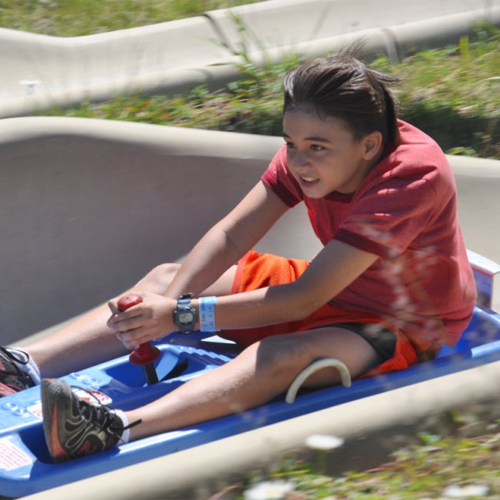 Come up to Mt Hood Adventure Park for the exciting Alpine Slide! 1/2 mile of exciting turns and beautiful views of the mountainside. Great for parties and families come to the mountain and experience adventure!
The Pacific Northwests only ½ Mile Dual Alpine Slide, this major attraction sends you flying down a half mile track of twists and turns through mountain meadows before dropping you back off in the base area of Skibowl West. Two side-by-side tracks let you ride alongside family and friends as you take banked turns, S-curves and hairpin thrills at the speed of your choice.

Start with a leisurely trip up the mountain on the Scenic Sky Chairs, and then prepare for a roller coaster ride down the mountain. Youll drop 350 feet over the half mile ride with average speeds around 20 MPH as you wind your way down the track. Speeds of up to 37 MPH have been reached but with the brakes at your fingertips, youre always in control.
Learn more at: www.skibowl.com/summer/mt-hood-activities/alpine-slide
Discover more attractions, events and activities you wont want to miss-out on while visiting: Mt Hood Territory. Dont forget to visit Mt Hood Territory for more information about the regions attractions and lodging before your trip to Mt Hood.