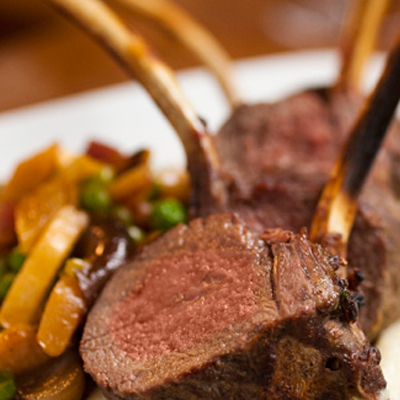 Enjoy Cascadian Cuisine in the farm to table restaurant, Altitude located in Welches OR. Featuring dishes made with the bounty of Oregon and seasoned with herbs from their own garden. Whether you are out and about in Mt Hood or are looking for a great place to dine, Altitude is a great place to stop in at.
Altitude's arrival on the Mt. Hood dining scene put it near or at the top of everyone's dining wish list. Its un-regimented and casually upscale dining environment allows diners to feel at home in comfortable surroundings. And while the food speaks for itself, an intelligent selection of wines finds its own voice.

Located at The Resort at The Mountain, Altitude is a favorite for a broad range of area diners and resort guests, as well as those making the less-than-one-hour drive from Portland. Not "just" a hotel restaurant, Altitude is a popular eatery and one of the top restaurants in all of Oregon.

The culinary team delivers traditional menu items with a contemporary focus on flavors and textures and presentations that are thoughtfully conceived and carefully executed. They are especially passionate about the restaurant's extensive incorporation of the best and freshest local Oregonian bounty. Literally grown in The Resort's backyard are some "best you can get" produce including mushrooms, huckleberries, stone fruits (including peaches, cherries, apples) and hazelnuts. Caught right out of the Columbia River one day and served fresh the same day or next are steelhead, coho and sturgeon. And the cows who ultimately become Altitude's country-natural beef graze on land in nearby Sisters, OR. Yes, "locavores" will love the bounty showcased at Altitude! Menu offerings appeal equally to a vegetarian or a carnivore! And the Altitude bar menu showcases smaller portions of dinner items.

Altitude's Executive Chef is highly aware of many food allergies and will ensure your needs are fully met. More gluten free, vegetarian and vegan options than ever have been added to Altitude's menus for your dining pleasure. Advise your server of your food allergies so that your needs may be communicated to the Chef.

Altitude is an ideal choice for a romantic evening with a special someone. Or a great place to gather, relax and unwind with friends and family. It is a well-deserved treat any night of the week.

Altitude's beverage selections are delightfully diverse some of the most creative available at Mt. Hood restaurants. Featured daily are bar drinks made with fresh fruit ingredients, juices and garnishes; regional and international cocktail offerings; as well as concoctions more contemporary and trendy. A thoughtfully-composed wine list features wines from just about everywhere (including many from the Willamette Valley). There are many exceptional choices.

Let your server guide you through the menu review and selection process. Come experience why you can soar to new heights at Altitude.
Learn more about Altitude, in Welches OR.
Discover more attractions, events and activities you wont want to miss-out on while visiting: Mt Hood Territory. Dont forget to visit Mt Hood Territory for more information about the regions attractions and lodging before your trip to Mt Hood.