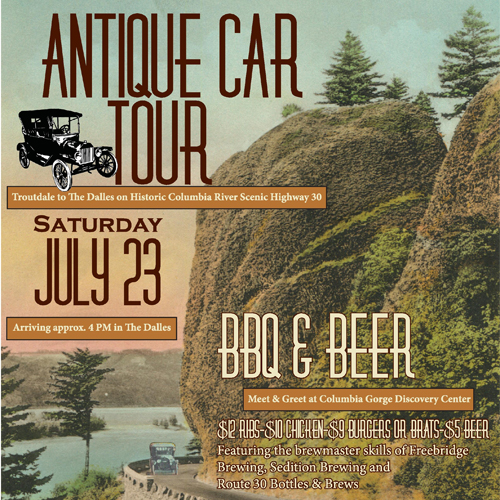 Come on down to The Dalles Saturday, July 23rd, and see the Antique Car Tour! Food and beer and beautiful pieces of history are sure to make the day memorable!
As part of the Historic Columbia River Highway Centennial Celebration, the Friends of the Historic Columbia River Highway is hosting an Antique Car Tour, Saturday, July 23, 2016 from Troutdale to The Dalles.

The tour will conclude at Columbia Gorge Discovery Center, which is hosting a BBQ & Brews welcome from 4 to 7 p.m. The museum will have free admission after 4 p.m.; exhibits will close at 5. Restrooms will be open until 7 p.m. Barbecue choices include ribs $12; chicken $10; burgers $9; side dishes of potato salad, coleslaw, or baked beans for $1 each.

The public is invited to enjoy microbrew beer produced by local breweries, including Freebridge Brewing and Route 30 Bottles & Brews. 16 oz. keg beer on tap $4. The year 2016 marked the opening of all three breweries in The Dalles, the first commercial breweries in The Dalles since prohibition took effect in 1916.

The arrival of the Antique Car Tour at The Dalles is estimated to be around 4 p.m. where they will pick up Mayor Steve Lawrence to tour the downtown, then travel on Highway 30 out to the Columbia Gorge Discovery Center, 5000 Discovery Drive, The Dalles. The public will be welcome to come and view the fleet of vintage autos, all manufactured by 1949 or earlier and talk with the owners.
Learn more about the event at: www.gorgediscovery.org/event/antique-car-tour-bbq-brews/ instance_id=466
Discover more attractions, events and activities you wont want to miss-out on while visiting The Dalles. Dont forget to visit The Dalles Chamber of Commerce for more information about the regions attractions and lodging before your trip to The Dalles.