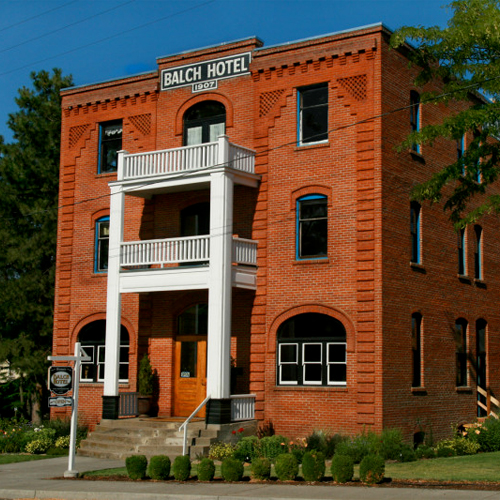 Come on down and enjoy a stay in the historic Balch Hotel in Dufur OR! Get away from your crazy life and enjoy the hospitality offered by the staff that greets you with a homemade cookie when you first walk in the door. Beautiful relaxing rooms in a beautiful historic building!
We've created outdoor spaces for you to soak in the warm sunshine, gaze at the wheat fields, Mount Hood view, or sunset. The hammocks are great spaces for you to read, daydream (remember watching the clouds ) or even nap.

We offer light dinner options (soup, salad, wrap, etc.) so you no longer need to leave for an afternoon or evening meal! (See the Dine page for details.) Dine on our patio or in our dining room. Or walk to some local establishments--limited but classic--or for a full menu dining experience head to The Dalles (20 minutes), Hood River (40 minutes) or Maupin (30 minutes). We can help with options.

You might also enjoy a glass of wine from one of our local wineries, or a cold beer to go with our coffee-infused chocolate ganache cake. It's the best.

Buffet breakfast is included and served every morning at 9 am. (Coffee and tea are available around 8am.)
Learn more about this wonderful hotel and book your stay at: www.balchhotel.com/
Discover more attractions, events, and activities you wont want to miss out on while visiting The Dalles. Dont forget to visit The Dalles Chamber of Commerce for more information about the regions attractions and lodging before your trip to The Dalles.