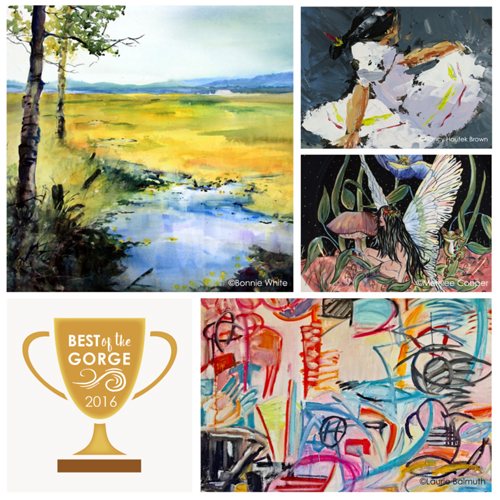 Opening June 29th at Columbia Center For The Arts is the show Best Of The Gorge, featuring some of the best artists and artwork the Columbia River Gorge has to offer. The opening reception is on July 1, 6-8pm and the exhibition goes on through June 29-July 31.
The Columbia Center for the Arts hosts its Best of the Gorge exhibition, celebrating the best artwork produced by mid-Columbia River Gorge artists. The show has become an annual event that draws in visitors from around the world to experience some of the finest art in the region.

The Columbia River Gorge is a place of unparalleled beauty and features stunning and quiet natural beauty and spectacular scenery. Our relationship with this landscape and its people is what this show is about as artists create work that speaks directly to their connection to place by submitting their very best work about the Gorge. Artists working in all traditions, mediums, and intentions are welcome to submit work.

Best of the Gorge 2016 is curated by local artist Christine Knowles and juried by Linda Tesner, Gallery Director of the Ronna and Eric Hoffman Gallery of Contemporary Art, Lewis & Clark College in Portland, OR.

ARTIST ROSTER
Bonnie White
Nancy Houfek Brown
Edouard Lamont
Laurie Balmuth
Sarah Arnold
Laurie Black
Merilee Cooper
Stephen Datnoff
Rachel Harvey
Linda Jo Hunter
Christine Knowles
Pamela Larsen
Eric Lindsay
Abigail Merickel
Jan Muir
Peggy Ohlson
Mary Preston
Cathleen Rehfeld
Mary Rollins
Cleo Sterling
Cyndi Strid
Susan Sutherland
Jennifer Szolnoki
Nik Vik
Eric Voigt
Learn more about the event by visiting The Columbia Center For The Arts website.
Discover more attractions, events and activities you wont want to miss-out on while visiting: The Hood River. Dont forget to visit The Hood River Chamber Of Commerce for more information about the regions attractions and lodging before your trip to Hood River.