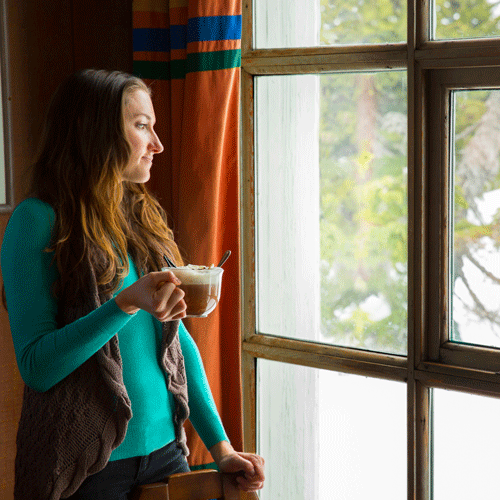 As autumn settles in and the air gets cooler, the need to warm your hands and body with a delicious warm beverage increases. Here is a list of our favorite warm drinks in the Mt. Hood/Gorge region:
A Hot Chocolate at Timberline Lodge in Government Camp
Many have tried to replicate it, but few can -- The Hot Chocolate from the Rams Head Bar at Timberline Lodge. Nestle into a comfy chair as you sip on a piping hot mug of liquid chocolate goodness topped with whipped cream, shaved nuts, and caramel drizzles.
A cappuccino in an old stone church at The Riverenza in The Dalles
Serving both delicious coffee and tea drinks, what makes The Riverenza a truly special place to visit in The Dalles is the location. The cafe sits inside a beautiful century old stone church.
Coffee and a doughnut from 10 Speed Coffee in Hood River
Combine bike culture with coffee culture and you get 10 Speed Coffee. This is the best place in Hood River for delicious, micro batch roasted coffee with a side of doughnuts and biker people watching. Bonus: You will be drinking coffee for good. A percentage of every purchase goes back into programs and projects that help build the local cycling culture.
Stomping Ground offers a delicious Spanish mocha in Fairview
Come for the Spanish mocha, stay for the comfy couches, community atmosphere, and sense of family at Fairviews Stomping Ground. This family-run coffee shop was conceived and built through the efforts of three generations of women.
A pot of herbal tea at the Good Medicine Lounge in Hood River
With over 80 different combinations of farm-sourced teas, many of which are organic, Good Medicine Lounge in Hood River is the best place in the Gorge to fill your tea needs. Choose a tea that aids your ailment or one that just sounds tasty and relax in one of their comfortable lounge seats.
An artisan espresso from Mt. Hood Roasters in Rhododendron
Mt. Hood Roasters is a must stop coffee shop on your way up to Mt. Hood for a day of recreating. Not only do they serve excellent coffee, but they also use a unique method of small-batch air roasting to make sure every pound is artisanally-crafted for your enjoyment.