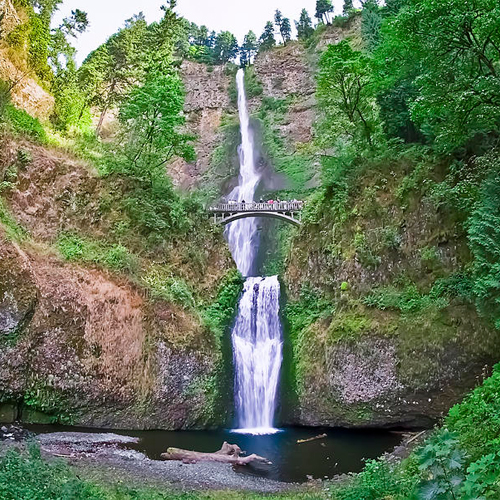 To the east of Portland in the heart of the Columbia River Gorge, is a waterfall that draws crowds all year round: Multnomah Falls. The highest waterfall in Oregon it is one of the most visited natural attractions in Oregon. Surrounded by greenery, history and tons of hikes all with spectacular views it's not a wonder why. This year marks not only the 100th anniversary of the highway that runs in front of it, but also the start of something new. Starting this summer a shuttle bus program that will take riders round trip from Portland to Rooster Rock Park and then to Multnomah Falls.
The Oregon Dept. of Transportation kicks off a summer shuttle bus program next week, offering $5 rides throughout the summer to Rooster Rock State Park and Multnomah Falls.

The 20-seat buses will depart the Gateway Transit Center on Fridays, Saturdays, Sundays and federal holidays beginning Friday, May 27 and running through September 25 . Federal public transit money will pay for the project in 2016 and 2017, officials said.

Buses will depart about every 35 minutes from 8:45 a.m. to 5:20 p.m. Riders who drive to Rooster Rock can also take the bus for free from a park-and-ride lot at the park to Multnomah Falls - a round-trip that's free. The shuttle will run every 15 minutes.

The Columbia Gorge Express is a pilot program developed by ODOT with the US Forest Service, TriMet, Travel Oregon, Oregon State Parks and other agencies to reduce traffic on Interstate 84 and parking congestion at Mulltnomah Falls - Oregon's number one natural attraction.

Kristen Stallman, an ODOT coordinator, said the parking lot at Multnomah Falls closed to traffic 181 times in 2015, with most of those closures coming on weekends due to overcrowding.

"If you've tried to access the gorge in the last year or two you'd know that the area is super-congested, especially at the Multnomah Falls parking lot," Stallman said. "This is our attempt to provide an easy way for folks in Portland, for folks visiting Portland to get to the gorge."
To get more information on the route, schedule and tickets visit the website here.
Discover more attractions, events and activities you wont want to miss-out on while visiting: The West Columbia River Gorge. Dont forget to visit The West Columbia River Gorge Chamber of Commerce for more information about the regions attractions and lodging before your trip to The West Columbia River Gorge in Oregon.
SRC: Continue reading the article here.