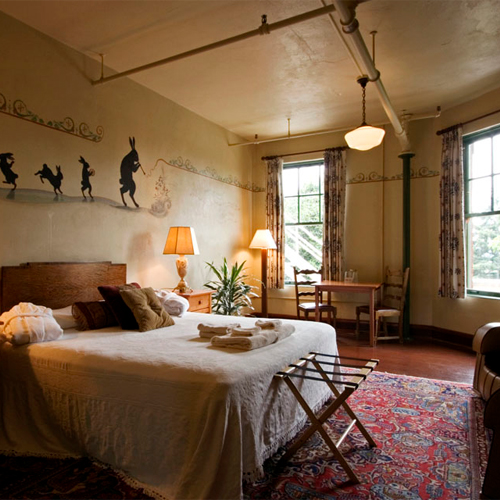 Historic Edgefield, built in 1911 as the county poor farm, is a destination resort encompassing a 74-acre parcel of farmland at the mouth of the spectacular Columbia River Gorge Scenic Area. It is a 20-minute drive to or from the center of downtown Portland and about 15 minutes from Portland International Airport. Outside is a welcoming environment for dog and bikes where you can visit an onsite glassblower and potter; on the inside they have wine tasting, a theater, a pool hall, top-notch food and whimsical murals that echo the history of restored building and farm.
The guestrooms at Edgefield vary in size and feature whimsical artwork, comfy chenille-covered beds and vintage furnishings. Guests may choose from rooms with private bathrooms or with conveniently located common bathrooms down the hallway. Many of our rooms also feature original porcelain sinks and cotton bathrobes. There are no televisions or telephones in the rooms. We do offer complimentary WiFi around the restaurants and in the Library. We do not have air conditioning within the guestrooms; however, all rooms feature large windows, and fans are available upon request. Air conditioning is available in the Black Rabbit, Power Station and other areas of the property.

Our hostel rooms offer bunk beds and individual lockers. Rates are for one bed in either a men's or women's sleeping quarter. Hostel beds are filled on a first come, first served basis.
Apart from the many entertainments available right at Edgefield (golf, pool, wine tasting, shopping, spa treatments and so on), there are nearby options galore for shopping, touring, hiking, skiing and more. Read about all of Edgefield's recommended nearby attractions.
Each room at Edgefield unique; the European-style guestrooms are furnished in turn-of-the-century decor--each one with it's own personality. Click the following link to find the perfect Edgefield guestroom.
Discover more attractions, events and activities you wont want to miss-out on while visiting: The West Columbia River Gorge. Dont forget to visit The West Columbia River Gorge Chamber of Commerce for more information about the regions attractions and lodging before your trip to The West Columbia River Gorge in Oregon.