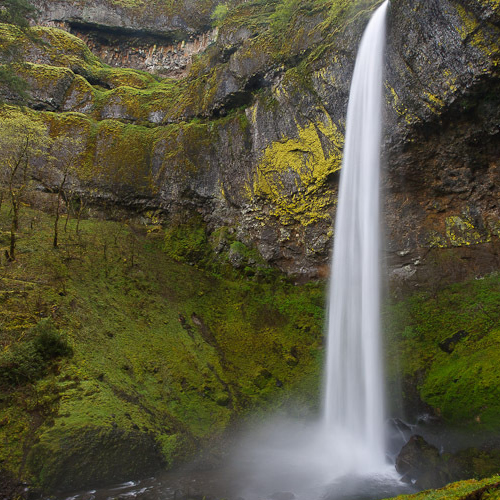 A quick hike with a big reward, the Elowah Falls trail is one of the best short day hikes in the Gorge. The 1.6 mile out-and-back hike drops you at the base of the Elowah Falls, an elegant, 200-foot falls that cascades over a cliff decorated with patches of yellow-green lichen. If you are looking to continue on your journey, take the nearby trail to Upper McCord Creek Falls to behold the remarkable double-falls.
Ready to hike Follow these directions to reach the trail head:
Elowah Falls Trailhead: Located near Warrendale in the Columbia River Gorge. Driving east from Portland along I-84, exit the freeway at the Dodson exit (also signed for the Scenic Highway). Just after exiting the freeway, turn left onto a frontage road that runs parallel to the Interstate, and follow it for 2 miles to John B. Yeon State Park. If you are heading west on I-84, simply exit I-84 at Exit 37, turn left and drive a short distance to the parking lot. The trail starts climbing rather gradually from the parking lot for about .3 miles to a signed fork. The right fork goes steeply uphill to spectacular aerial views of the falls from a ledge carved out of rock 400 feet above the canyon, then proceeds on to Upper McCord Creek Falls. The left trail descends to McCord Creek and crosses immediately in front of the base of the falls.
Discover more attractions, events and activities you wont want to miss-out on while visiting: The West Columbia River Gorge. Dont forget to visit The West Columbia River Gorge Chamber of Commerce for more information about the regions attractions and lodging before your trip to The West Columbia River Gorge in Oregon.
SRC: Find more information about this hike here: www.waterfallsnorthwest.com/nws/falls.php num=4042