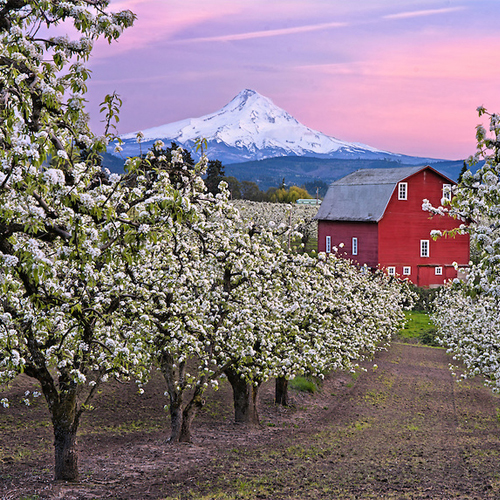 The Fruit Loop in Hood River is a 35 mile scenic drive past of local farms filled with produce gorgeous pear, cherry, apple, nectarine and peach orchards, where youll find farm stands, wineries, breweries, alpaca ranches, lavender farms, and great jams, jellies, pies, wines, beer, and more. So jump in the car and enjoy the ride! This can be your family's local road trip!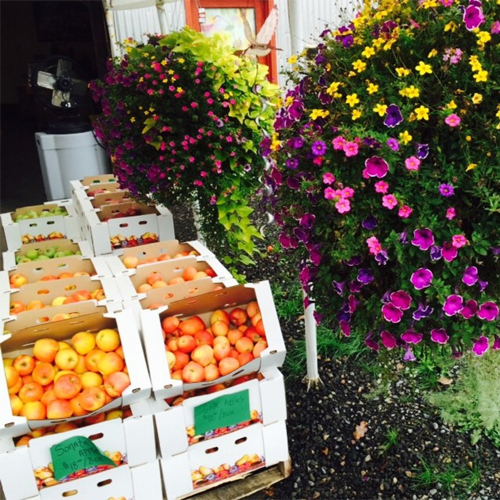 Grab a free Fruit Loop map anywhere along the Loop, or pick one up at the Hood River County Visitor Center. (Please note that this is an agricultural area, so not all businesses are open during the fall and winter season. Please check the Fruit Loop website for detailsand for a complete list of available u-pick information.)

Take I-84 Exit 64 and head up Hwy 35 towards Mt. Hood. To get a feel for the variety of agriculture that defines Hood River Valley, stop at Panorama Point where youll also have a view of Mt. Hood and Mt. Adams on a clear day. We recommend you stop at all the locations on the Fruit Loop map, but here are some suggestions to help get you started: The Gorge White House is a working pear orchard that offers winetasting from most all of the Gorge region wines. Here you can also sample and purchase local fruit, u-pick berries, and u-pick flowers.

Hood River is rapidly becoming known for its outstanding hard ciderand its no wonder with all the great local fruit thats available. Check out Fox Tail Cider for some of the areas finest cider, and then see your own glass art being made at Glassometry Studios. A little farther up the road take the exit for the little town of Odell and follow the signs to the Hood River Lavender Farm, where youll see spectacular lavender fields and views of the double mountains. Visit their quaint gift shop for all things lavenderfrom soaps to lotions to lavender ice tea.

Back up Hwy. 35 stop at Packers Orchards & Bakery for fruits in season, jams, jellies, preserves, pies and pie fillings, ice cream, and delicious daily baked cookies. Just before you reach the town of Mt. Hood on Hwy. 35, youll see Draper Girls Country Farm where you can u-pick most of the summer. Draper Girls Country Farm is open all year round, and they always have something to offer, from antiques, to non-pasteurized cider.

Once you reach the town of Mt. Hood, take the exit to Parkdale and take some time to explore this wonderful village. Be sure to see the Hutson Museum, and try the food at Apple Valley BBQ. From Parkdale take the Dee Highway and check your Fruit Loop map for a variety of wineries all along the way back to Hood River. There are lots of great tasting rooms with great mountain views. You can find out about all the Gorge wineries at the Columbia Gorge Wines website.

More food for thought:

The lavender farms offer u-pick lavender starting at the end of June, all the way through October.
The upper valley offers berries in July and August, and Heirloom Apples and Pears in the fall.
The Fruit Loop is beautiful year round, but be sure to visit during the April Blossom Fest time to see acres of orchards in bloom, and the Fall harvest when the fruit is piled high in the bins.
Learn more about the Fruit Loop route, or visit the Fruit Loop website for a full map and a list of their events and activities.
Discover more attractions, events and activities you wont want to miss-out on while visiting: The Hood River. Dont forget to visit The Hood River Chamber Of Commerce for more information about the regions attractions and lodging before your trip to Hood River.