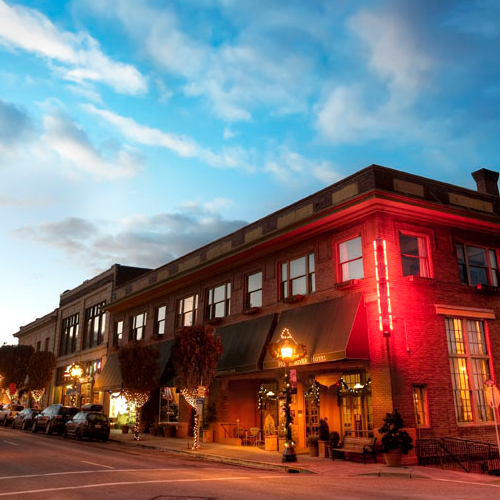 Hood River Hotel is a historic place to stay as you experience everything the Columbia River Gorge has to offer. Enjoy the comfortable lobby with a wood burning fireplace, explore the history of the hotel while looking out onto the beautiful views of the Columbia and the surrounding area.
In 1911, the present brick Hood River Hotel building was constructed as an addition to the original 'Mt. Hood Hotel'. By the 1920's the local fire marshal forced the demolition of the wooden portion of the building as a fire hazard. The hotel lobby had already been relocated to the brick 'Annex' to take advantage of the heavy traffic on the bustling Columbia River Scenic Highway that was completed in 1915.

By the 1970's, the hotel had deteriorated however increasing windsurfing tourism provided a new lease for the Hood River Hotel in the late 1980's.

Pasquale Barone purchased the hotel in 1988 and he and his wife, Jacquie supervised the restoration of the historic structure. The renovation restored many of the features of the original hotel; lofty ceilings, expansive windows, brass elevator and the marble faced wood burning fireplace in the lobby.
Learn more about the history of the hotel or book a room at: www.hoodriverhotel.com/index-1.html
Discover more attractions, events and activities you wont want to miss-out on while visiting: The Hood River. Dont forget to visit The Hood River Chamber Of Commerce for more information about the regions attractions and lodging before your trip to Hood River.