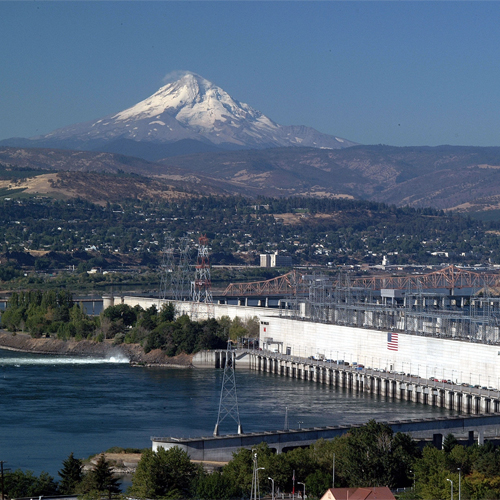 The Dalles Lock And Dam is a place filled with history and very cool science. Producing 9.2 billion kilowatt hours of electricity and moving cargo up and down the Columbia River, The Lock and Dam is very important to the Columbia Gorge area. You can take tours and explore this area and learn more about the Dam and Lock!
The Dalles Dam Visitor Center is open 9 a.m. to 5 p.m., Friday through Sunday, between May 1 and Memorial Day weekend. After Memorial Day, the center begins daily operations, seven days a week through Labor Day weekend. Labor Day through the end of September, weekend only operations resume. No fees are charged at this location. Call to inquire about tour availability.

Amenities and activities:

Restrooms
Children's activities
Exhibits
Fish viewing
Picnic shelter
Drinking fountain
Rose garden
Scenic views of Mt. Hood
Learn more about The Dalles Lock and Dam at: www.nwp.usace.army.mil/Locations/Columbia-River/The-Dalles/
Discover more attractions, events, and activities you wont want to miss out on while visiting The Dalles. Dont forget to visit The Dalles Chamber of Commerce for more information about the regions attractions and lodging before your trip to The Dalles.