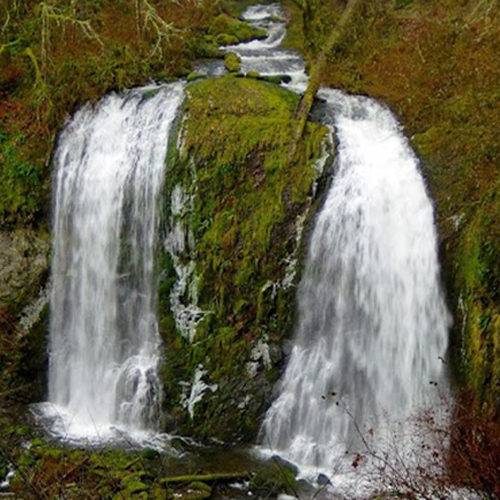 Upper McCord Creek Falls is a beautiful double waterfall well worth the hike. Featuring beautiful views of The Gorge and Mt Adams, this family friendly hike is a great idea for a day trip in The Gorge.
This hike begins at the same location as the Nesmith Point and Elowah hikes. Follow trail #400 along an abandoned road and up a steep incline, where you will come across a junction. Bear right and follow the trail uphill toward McCord Creek Falls. After a few switchbacks, the view will open up to great vistas of the Gorge and Mt. Adams. The trail is cut into the wall and has railings for safety. You will see Elowah Falls from the top, just before entering the forest and coming to McCord Creek Falls. This is a remarkable double falls and well worth the trip. Note that sometimes on dry summer days, only one falls may be flowing.
Learn more about Upper McCord Creek Falls hike in the Columbia River Gorge.
Discover more attractions, events and activities you wont want to miss-out on while visiting: The West Columbia River Gorge. Dont forget to visit The West Columbia River Gorge Chamber of Commerce for more information about the regions attractions and lodging before your trip to The West Columbia River Gorge in Oregon.