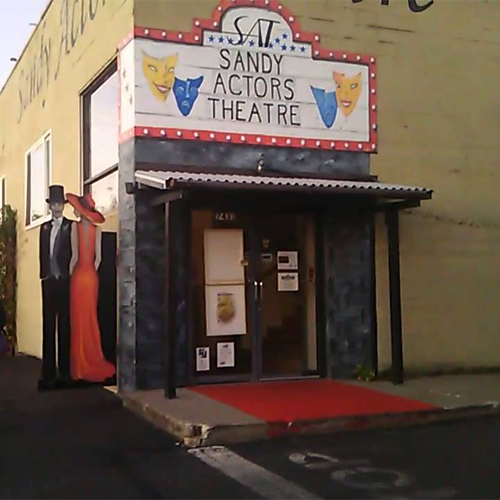 The Sandy Actors Theatre has been around since 1976 providing it's community with quality theater productions. Through many name changes the SAT has continually produced quality theatre and kids programs for the Sandy area including full seasons. While the 2015/2016 season has just winded down the children summer program will be starting in August with the season starting up again in September.
Sandy Actors Theatre began in June 1976 as the One Way Theatre in Sandy, Oregon. In March 1979, the group became known as The Sandy Community Players. Sandy Community Players performed in many locations within Sandy before finding its home in Heritage Square. The theater saw many different theatrical perspectives throughout its history. SCP was known for producing musical productions with elaborate sets and costumes, and for a time became known for its children's theater. In 1999 a shift began to emerge producing a full season of comedy, drama and children's productions. In the summer of 2000, we again changed our name, to better reflect our commitment to continually raise the level of our production values.

Today, S.A.T. is known for providing professional productions and its community involvement.



Discover more attractions, events and activities you wont want to miss-out on while visiting: Mt Hood Territory. Dont forget to visit
Mt Hood Territory Chamber Of Commerce
for more information about the regions attractions and lodging before your trip to Mt Hood.