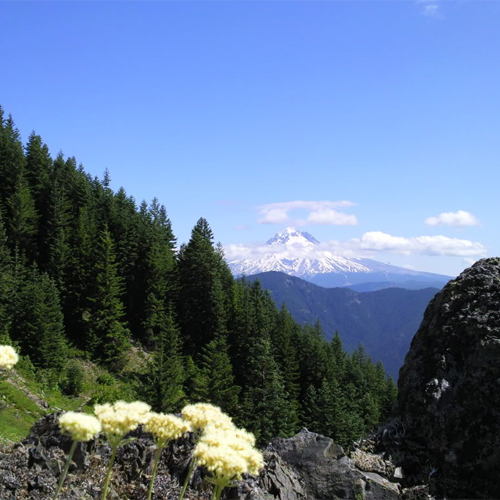 Salmon Butte Trail is a great hike for those looking for a little more of a challenge but a great reward. Beautiful, forested scenery all the way up the trail, and a view of several mountains along the Cascade range at the top. Come on down to Mt Hood by Welches and see this beautiful 11.8-mile hike!
The Salmon Butte Trailhead sign is nailed to a tree above a wide trail. Do NOT take this trail: it leads to campsites and the river, which is where most of the occupants of the vehicles at the trailhead are ensconced. Instead, take the road bed up past the boulders blocking it. Youll pass above campsites above the Salmon River, always busy on a summer weekend. Cross the road bridge over the South Fork Salmon River and continue hiking up the old road bed shaded by red alder, big-leaf maple, western red-cedar, and western hemlock. As you ascend, youll pass some massive Douglas-firs on the South Fork side of the road. There are several creeks to cross: when the road was decommissioned, culverts were removed and the trails dips into shallow creek gullies and swings from one side of the original road to the other. Not surprisingly, it is mostly non-native species that have colonized this disturbed area, including foxglove, creeping buttercup, ox-eye daisy, and herb-robert. The road makes a big switchback up to the left and curves up the hill. The trail soon leads right through a thicket of Sitka alder and off the road into the woods at the Salmon Butte Former Trailhead.
Learn more about this great hike at: http://www.oregonhikers.org/field_guide/Salmon_Butte_Hike
Discover more attractions, events and activities you wont want to miss out on while visiting: Mt Hood Territory. Dont forget to visit Mt Hood Territory for more information about the regions attractions and lodging before your trip to Mt Hood.