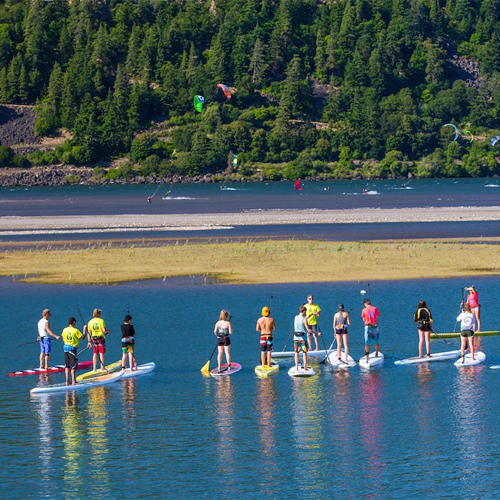 Stand Up Paddling is gaining popularity especially here in the beautiful Columbia River Gorge. Now, these kinds of sports do have a bit of a steep learning curve so it's advised to plan on a few lessons so you can see far more progress. Having said that, Stand Up Paddling can be a great and fun family or group activity! Big Winds in Hood River offers a variety of lessons for Stand Up Paddling.
ZERO TO HERO LESSON

1 hour lesson, 30 minutes of practice, $49

Learn the basics and be up and paddling in no time. Suitable for the whole family.

Prerequisites: swimming ability; minimum age: 12 years.

Instruction Includes:

Site and weather orientation
Introduction to equipment
Safety
Proper paddle usage
Getting started: launching
Knee paddling
Stand up paddling
Board maneuvers
Deep water restart
Check out more of their lessons at: www.bigwinds.com/sup-lessons
Discover more attractions, events and activities you wont want to miss-out on while visiting: The Hood River. Dont forget to visit The Hood River Chamber Of Commerce for more information about the regions attractions and lodging before your trip to Hood River.