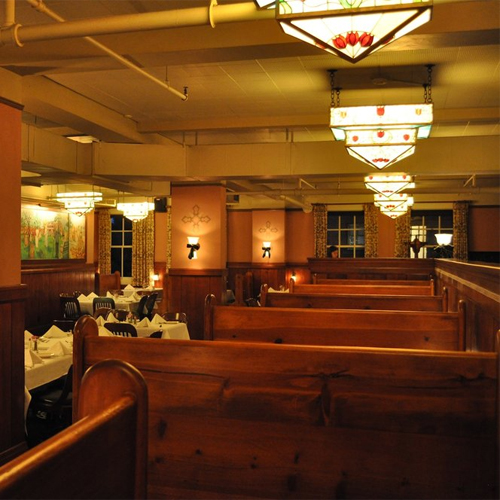 Part of the Edgefield experience is The Black Rabbit restaurant. As with any McMenamins establishment, the building is filled with atmosphere and murals, and the kitchen uses produce from McMenamins own 74 acres.
Located in Edgefield's main lodge, the Black Rabbit Restaurant is open daily for breakfast, lunch and dinner. Fantastic murals tracing the history of Edgefield and the Columbia River Gorge line the walls, and intimate booths encourage you to linger over a fine meal. Guests can choose from an innovative menu of Northwest cuisine and traditional favorites, as well as an expansive list of regional and local wines.

The kitchen uses ingredients from Edgefield's own gardens, grown using organic methods herbs, vegetables, fruits and flowers that flourish throughout the property's 74 acres in Troutdale. Restaurants on the grounds use these in seasonal specials and throughout the menu whenever possible. Be sure to ask your server about daily specials! But save room for one of our house-made desserts, accompanied by a cup of coffeefresh from our roaster.

In the adjacent Black Rabbit Bar, petite tables for two line walls of rich mahogany, and the 30-foot bar reaches through a small nook and around the corner. Take your pick from a selection of McMenamins' own handcrafted ales, brewed on site just 50 yards from the bar, as well as from an expanded selection of imported and domestic bottled beers. Seasonal brews, Edgefield wines and regional and international wines and spirits augment the list along with a hearty bar menu.
Learn more about The Black Rabbit restaurant and bar at Edgefields.
Discover more attractions, events and activities you wont want to miss-out on while visiting: The West Columbia River Gorge. Dont forget to visit The West Columbia River Gorge Chamber of Commerce for more information about the regions attractions and lodging before your trip to The West Columbia River Gorge in Oregon.