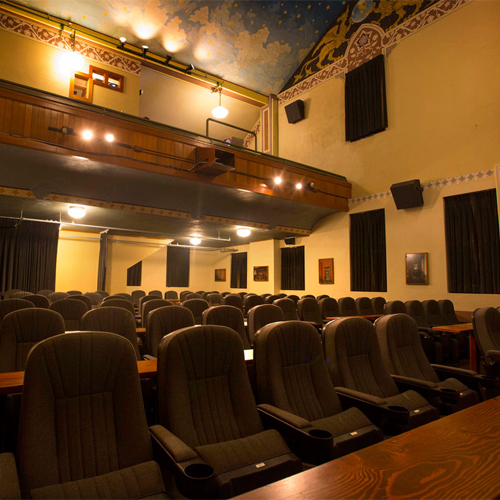 Sit back and enjoy a wonderful movie in the historical and beautiful Edgefield Theater. Comfy chairs, food and drink served before the movie starts all in a beautiful room surrounded by gorgeous murals and paintings. Come down to Edgefield for an excellent movie experience.
About Edgefield Theater

Weve enhanced your movie-going at the Poor Farm! Enjoy new luxury movie rocker seats, online ticket purchase with reserved seating and food and table service starting 45 minutes before each showing!!

Accommodations

Our theater offers a quality entertainment experience for deaf, hard of hearing and vision impaired guests. Our movie showings are closed captioned, and we offer individual Captiview closed caption devices that sit in your seats cupholder. In addition, we offer two types of headphones: hearing impaired headphones that amplify the dialogue, or visual impaired headphones that describe the scenery and action. Just inquire before showtime to use any of these devices.
Just another one of the awesome accommodations at McMenamins Edgefield. Check out the new movies and the ticket prices and times at: edgefieldtheater.com/
Discover more attractions, events, and activities you wont want to miss out on while visiting: The West Columbia River Gorge. Dont forget to visit The West Columbia River Gorge Chamber of Commerce for more information about the regions attractions and lodging before your trip to The West Columbia River Gorge in Oregon.