Oregon is known for its scenic and majestic landscapes, which showcase a rainbow of colors ranging from emerald green forests and cobalt blue waters, to the kaleidoscope of red, orange, purple, yellow that are hallmarks of the state's agricultural bounty. Perhaps nowhere is this palette of red, orange, yellow, green, blue, indigo, and violet more prominent than the Hood River Valley, located in the Columbia River Gorge. Snuggled between the mighty Columbia River at Oregon's northernmost border and Mt. Hood due south, the Hood River Valley is an agricultural mecca. It's known as one of the nation's largest producers of apples and pears, and it's beloved for the Fruit Loop, a 35-mile scenic tour of orchards, farm stands, wineries, cideries, and breweries that's renowned as one of Oregon's premier agri-tourism destinations. In the Hood River Valley, you'll find farms ranging from commercial produce suppliers, to organic farm-to-table, to U-pick fruit and flower stands. You'll see the colors of the rainbow displayed on apples, peaches, dahlias, pears, blueberries, lavender, cherries and more. Check out some of our favorite stops for rainbow hued goodies below:
Fruit
Hilda's Organic U-Pick - Hilda's is a quintessential and historically rich Hood River U-pick, showcasing century-old buildings and scenic views of fruit orchards. Located just a 7 minute drive from downtown Hood River, Hilda's is at once convenient and remote, making it the perfect spot to hit on your way out of town or while wine tasting on the westside. Here you'll find berries, peaches, apples, and flowers throughout the summer. Make sure to check Hilda's website for weekly updates on what's fresh and currently in season.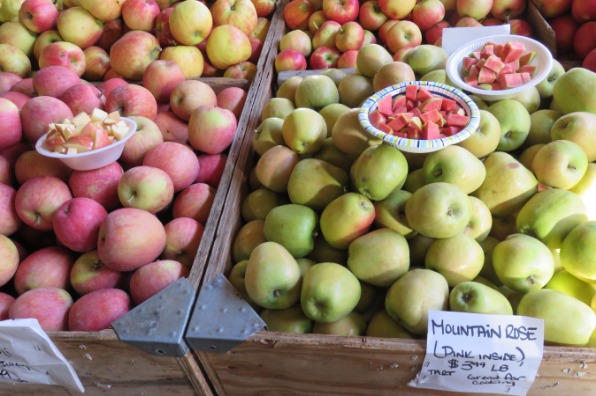 Smiley's Red Barn - Located on the valley's eastside, Smiley's Red Barn is a fifth-generation farm offering a variety of fruity fare from peaches, apples, nectarines, and berries, to farm-made jams and jellies. Just off Highway 35, you can't miss the big red barn or their neighbor - Foxtail Cider and Distillery. (Note: They are stop #5 on the Hood River Fruit Loop)
Lavender
Lavender Valley - Lavender Valley is where love of nature, appreciation of all things beautiful, and a dedication to wellness converge. You can wander the lavender fields while watching the bees pollinate from row to row. Cut your own lavender or purchase a pre-cut bunch, and don't forget to take the perfect Instagram selfie among the lavender, complete with a Mt. Hood photo bomb in the background. Lavender Valley specializes in chemical-free cleaning and body products, created and sold right there on the farm. (Fruit Loop stop #17)
Hood River Lavender Farms - Enjoy breathtaking lavender fields and views at Hood River Lavender. With scenic views of Mount Adams to the north and Mt. Hood to the south, and vibrant lavender in between, this is another can't-miss stop. Take home handcrafted bath and body items and other goodies from their local store, including the 100%-pure lavender essential oil processed on the farm. Grab a lavender lemonade or a glass of wine from neighboring Stave & Stone Vineyards, and relax amongst the rejuvenating scent of the lavender fields. (Fruit Loop stop #10)
Flowers
Mt. View Orchards - Enjoy U-cut dahlias and sunflowers at Mt. View Orchards, known for their picturesque views of Mt. Hood. A U-pick heaven, this farm is one of a kind and also happens to be home to Grateful Vineyards and Mt. View Brewing, so you can sample a flight while the young ones play in the fields or on the playground. (Fruit Loop stop #10)
The Gorge Whitehouse - Enjoy the iconic Gorge Whitehouse while sampling cider, enjoying orchard views, and grabbing a snack from their food truck. U-pick fruit and U-cut flowers make the experience complete when you enjoy this eastside Hood River Valley gem. (Fruit Loop stop #10)
Whatever your flavor, hue or scent, Hood River Valley has got you covered! Take a taste of the rainbow home with you when visiting Hood River.
For more information, helpful tips, and local know-how, check out the Hood River Visitor Center at the Hood River County History Museum off Exit 64 on I-84. You can call the visitor center at 541-386-2000, email them at info@visithoodriver.com, or find out more on their website at https://visithoodriver.com.