Enjoy one of Oregon's most legendary food experiences by cruising through all 35 miles of the Hood River Valley's Fruit Loop. From Hood River, to Oak Grove, to Odell and Parkdale, the 29 member stands boast unbelievably ripe and juicy fruits and veggies, flowers, wines, ciders, and delectable bites of fresh-baked foods. The Fruit Loop published its first map in 1993, and is one of Oregon's oldest farm-based tourism collaborations. Many of the farms, however, have been in business for decades prior to that, including Draper Girls Country Farm (a third-generation family farm in business since 1962), Kiyokawa Family Orchards (in business since 1911), and Smiley's Red Barn, which is a fifth-generation family farm. Now in its fourth generation of family ownership, the Kennedy Family has been running the Gorge White House since 1908.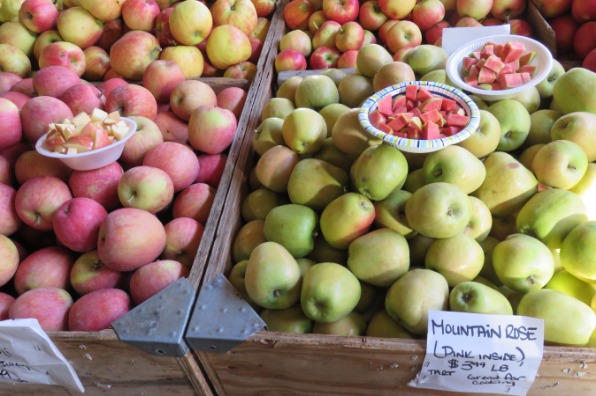 Fresh-picked apples are a Fruit Loop specialty.
With resplendent views of vintage farm structures, the trail has the feel of a timeless classic, but it's one of the hottest destinations in Oregon's hard-cider scene. It also boasts soils and cool climate that are ideal for Pinot Noir, Chardonnay, Cabernet Sauvignon, and even Zinfandel grapes. It's open year-round, although it reaches its peak in harvest time. Before you head out, be sure to check the harvest seasons to get the most up-to-date information on when harvest begins each year; the Fruit Loop's official map is a must-have resource for every day-tripper.
Soak in spring sunshine, enjoy abundant blossoms, and check out some iconic volcano views (Mt. Hood and Mt. Adams) on the patios and verandas of Mt. Hood Winery and Cathedral Ridge Winery, or cap off the day with a glass of fresh cider at the Fox-Tail Cider & Distillery. Summertime is a high time to be on the trail, with wildflowers and lavender in bloom as well as organic cherries, berries, peaches, and apples available for u-picks. Fall means cool mornings that warm into crisp afternoons, when rich medleys of yellow, gold, and red leaves contrast with bluebird skies. It's the ideal time to pick juicy apples and pears, along with fresh gourds.
No trip around the Fruit Loop would be complete without a stop at one of the valley's epic eateries - choose from Apple Valley BBQ, the Saw Tooth Roadhouse, or the Gorge White House Cafe's food truck.
Mix up your mode of transportation by choosing a biking and e-bike tour from MountNBarrel. Don't feel like you have to pack everything in just a day, either; extend your trip with a luxurious stay at the Old Parkdale Inn Bed and Breakfast. Wind down a busy day of traveling and adventuring by enjoying the peace and serenity of a walk through the Inn's grounds, which have garnered recognition as a Backyard Wildlife Habitat.